Retro-Game Backlog Entry #5: Castlevania: Dracula XX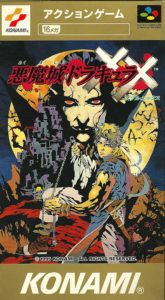 After Castlevania III, I must've just stopped playing the series. I appear to have missed everything up until Symphony Of The Night in 1997. It makes sense; I had no SNES or Genesis and college meant poverty for most. So, as I address this backlog, these titles feel very new, despite their age. Now, I tinkered with some of them, Super Castlevania IV most notably, but I most certainly never beat them and with Dracula XX (not Rondo Of Blood, the SNES sequel to it), I never would have had the patience to complete it without emulation!
However, going back to the start…Dracula XX was Konami's attempt to bring the legendary Rondo to the SNES without severely downscaling it. Instead, they made an entirely-different but kinda-the-same game. In every aspect it's inferior. What we got was a noble attempt. Several of the key elements were recreated here and it rewarded exploration with a pair of bonus stages and girls to rescue. Unfortunately, since those same features were on the Turbo CD game, it's impossible not to compare.
Richter returns and the fantastic hero traipses throughout familiar stages replete with beautiful fiery and watery effects. They look impressive but the design of those same stages is really quite weak. It was a product of its time; every jump was situated with a particularly-placed enemy crafted with the sole purpose of instilling frustration. Death comes from everywhere, jumps, floating heads, annoying enemies – it can be grueling. The foes are the customary ones, with many a true challenge. Saving the two girls is a must for the good endings, but even those were far too brief.
The game's music, on the other hand, doesn't let down. Well, it's not that any game in the series at that time did. The familiar tunes don't have quite the same punch as Bloodlines' tracks did, but that's no worry. I found myself muting everything else or turning up the volume as I played with headphones just because of the soundtrack. They rarely disappoint.
And then we have Dracula himself. After a rather easy battle in the original Dracula X, Konami decided to concoct the bullshittiest final boss I think I've ever encountered. The walk up to the tower was impressive, before a glowing moon, but the rest of it was memorable for all the wrong reasons. He had two forms: the first similar to what we all know and a second beast form where he flies above. However, the whole battle takes place on columns and the screen is wide. Therefore, you don't have access to attack many times and in the time-honored tradition, a hit bounces you back – oftentimes to your death! Oh, it's just so much fun, particularly when you manage to get to the final form and die by one misplaced jump. It's fucking brutal and I would've been so pissed had I purchased this thing back in the day. You will die. Over and over. And not in any fair fashion. I'm getting angry just thinking about it and it marks one of those many gaming quotes, "I'm never going to do that again in my life."
That final battle mars what is otherwise an OK game. It's frustrating but looks good and sounds great. This title isn't fondly remembered, understandably so. However, I'll take Richter over those Bloodlines heroes any day. Another day, another retro game completed. I'm thinking I'll hit up Super Castlevania IV next. I never loved that one, but most people do. See how it goes!